LEGAL UPDATE
This page is just a link. Purchases and data are not managed directly  but on the different online shop pages and their own privacity policies.
Belette Le Pink´s original arts, are available on the main printed on demand Online Shops.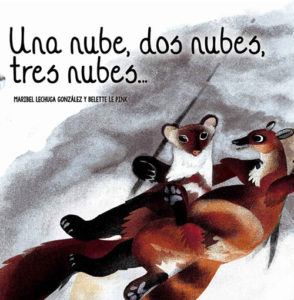 Una nube, dos nubes, tres nubes
Autopublished UNO editorial 2017

A graphic and dreamlike illustrated book about dreams, imagination and the small and large worlds that that appear just before you feel sleepy.
TEMPORARY SOLD OUT

Cuando las Águilas hacen historia
Author and Illustrator Belette Le Pink
Published by Grefa.org 2020
A book who will enjoy all the family.
Adults will discover amazing facts about the Bonelli Eagle (Aquila fasciata) and the kids, will enjoy watching the illustrations and
adventures about the characters. They are real stories, indeed, and the characters are based on real eagles who were part in the Aquila a-Life program to preservate the Bonelli Eagle in the Western Mediterranean countries.
A Journey To Inspire: My Story My Life
Illustrated by Lisa Pogioli / back cover by Belette Le Pink
Independently published (2020)
A biopic and inspirational book about don't give up and overcoming difficulties and traumatic experiences such as bullying, to learn to love yourself again and achieving a better and more complete life experience thru the love and understanding.
All money raised from this book will go towards raising awareness of poverty, homelesses, and raising money for charities.
It is available (printed and digital versions) on Amazon.
All works are copyrighted © 2017-2021 All Rights Reserved License throught Save Creative