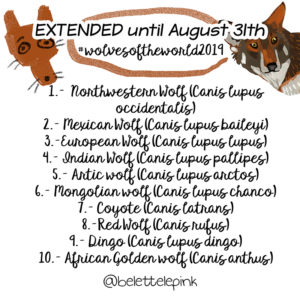 Hello my friends,
I´m happy to introduce the first art challenge I host on Instagram.
I´ve created the hashtag #wolvesoftheworld2019 to the art challenge that is opened until August 31th.
You can participate in the "Wolves of the World 2019" challenge painting ten of the Wolf Subspecies and discover the different types of this amazing animal.
The species are describe in the image, but you can add any other wolf you like.
All art styles are accepted even collage or photos.
The only you have to do is to use the hashtag #wolvesoftheworld2019 and tag my Instagram account @belettelepink , so I can find your entries. When deadline be finished (along September 2019) I´ll made a special post to show all the artworks made by different artists. 
You can show them just now checking the hashtag.
Some of my artworks below.
Thanks for all and Weasel hugs!
Belette
All works  are copyrighted © 2017-2019 with All Rights Reserved License throught Save Creative.