"Hi, I'm Belette Le Pink, I'm a little pink mink living inside a crazy grey-haired woman in her forty's who draws animals".
Well, Belette is not a real weasel, she is just an human based in Madrid, Spain.
"I began to draw at the age of four, just since I started to move my hands. I used to paint the animals I watched on the TV documentaries, eagles and wolves hunting deers and rabbits, the tigers and the big cats; the meerkats and the weasels".
One of her favourite past-times in her childhood, to watch  the cartoon animated series like Yogi Bear, Top Cat, Around the World with Willy Fog, Alvin and the Chipmunks, Fables of the Green Forest, Candy Candy … and the classic of Warner Bros or Hanna Barbera.
"I used to record the series on my video player and watch them in slow motion to discover the different movements of the animation".
Indeed, before to study Arts, she was totally convinced of being a biologist or veterinarian or even a documentary filmmaker,  traveling around the world recording wildlife movies.
But due her natural skills for art, she changed her mind in last minute.
"When I was five I started to write as self taught and I wrote my first "book" about the adventures of many animals, as wolves, foxes, dogs, and a farmer, at the age of six".
When she was fourteen years old she received an amazing gift for a neigbor who have been an oil painter before, and it was a turning pointand she started her oil painting learning.
"Although I studied at the School Art, Illustration and Design, I have always enjoyed more experimenting and doing things in a self-taught way ".
As an illustrator and oil painter she was inspired by Rien Poortvliet ( Gnomes) and Impressionists artists (Renoir, Sorolla )  Expressionists like Franz Marc or  Chagall and many others in different styles : Antonio Lopez  Goya, Vermeer  and many children books illustrators as Ulises Wensell  Rebecca Dautremer
"I felt in love with the animated productions after watching  Beauty and the Beast (1991) and I decided to investigate about the storyboard art, the layouts design and the film production".
She studied at the School of Arts for this purpose, but life had other plans for Belette and she had to leave the artistic "plans" for many years due familiar issues and other kind of jobs.
"Happily I could to study music in these in between years, and enrich my point of view and ways to express the art and complement the visual arts".
After many years out of service in artistic life, in 2017 Belette had the opportunity of publish an autopublished book "Una nube, dos nubes, tres nubes"  with the Maribel Lechuga´s texts.
In the same year the brand and artistic identity as Belette Le Pink was created.
"Why Belette? Belette sounds so beautiful. It means "weasel" in French and I love the weasels and mustelid animals (ferrets, otters, small carnivores) , and Pink, because I always love the Pink Panther".
"And as a Warner Bros big fan, I always love the character Pepe Le Pew (a skunk) and I found it would be funny to mix all these elements under the Belette Le Pink character".
The second brand registered as Weasel Hugs, is her war cry.
Belette Le Pink, the pink weasel, and the woman with the grey hair, coexist both in harmony, in body and soul,  creating art and music.
And when they do not know what to say, they simply say:
Weasel hugs !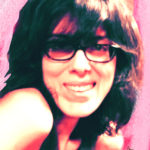 Madrid (Spain) 1978.
She studied at Artediez (Arts School in Madrid) Illustration and Graphic Print Degrees
Expanded her skills and knowledge in a self-taught way because adapting work schedules and official studies at that time.
Belette complemented the visual studies with unofficial music classes for several years (harmony, solfa, singing, piano…)
that broadened my creative and sensitive point of view.
Supporting environmental causes, both as artist and media activist.
The Belette´s favourite animals are Weasels and Wolves. 
Weasel hugs! is her personal war cry.
She workd both with traditional and digital techniques to paint and sketching animalart.
****
Exhibitions of paintings and posters in Madrid Area from (1999 to 2010)
Printed on Demand Shop owner since 2017
Illustrator in the book "Una nube, dos nubes, tres nubes" by Maribel Lechuga (2017)
Author and Illustrator in the book "Cuando las águilas hacen historia" published by www.grefa.org (2020)
Collaboring in the book "A Journey To Inspire: My Story My Life" written by Matt Spencer published on Amazon Books (2020)
Character Design
Surface Design and patterns
Pet portraits digital and Mixed Media Art
Private commissions
Commisions for customising products as apparel, gift ideas and merchandising (2017 – now)
Merchandashing, patterns and character design for "Tuulispää Shop" (2021-now)
Character design and art for the app "Pi Le Fuchs" (2021)
All works are copyrighted © 2017-2022 All Rights Reserved License throught Save Creative